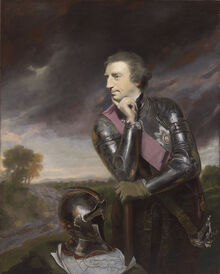 Field Marshall Jeffery Amherst, Baron of Montreal KB (29, January, 1717 - 3, August, 1797) was a Canadian colonial administrator, military officer and soldier. He was a veteran of the Fifth European Coalition War, the Fifth Anglo-French War and the First Anglo-Odaawa War. During his career, Lord Amherst served as fifth Commander-In-Chief of British North America, fifteenth Governor of the Colony of Virginia and first Governor of the Province of Quebec.
Lord Amherst's administration governed Canada between 1758-1763, during which time the French Empire's colonial administration was dismantled, the country was completely occupied by the British Army of North America and martial law was imposed throughout it. In the duration of his tenure, he deliberated the postbellum conditions of the British & French nations in North America, displaced the Beringian tribes of the Ohio River valley and oversaw the defence of the nation during the Fifth Anglo-French War and First Anglo-Odaawa War.
His armies conquered the Fortress of Louisbourg in Acadia, depriving the French Fleet of strategic control of the Gulf of St. Lawrence and exposing the capital of the French Colonial Empire, Montreal, to naval invasion. Later, forces under his command would usurp a confederacy of Beringian tribes, under the leadership of the Odaawa, from the Ohio River valley; this operation would enable the colonisation of the region.
Personally, Amherst accepted the surrender of the Viceroi, the Marquis de Vaudreuil, and authored with him the Articles of Capitulation, 1760, which would serve as the basis of the later Treaty of Paris, 1763: the treaty entailed the full annexation of the French Colonial Empire to British North America and defined the post-war status of the French diaspora in the country. He led the British Army of North America during the conquest of the Fortress of Louisbourg, the core of Quebec's defensive nexus, thus enabling the complete conquest of the country. Later, as Commander-In-Chief of the British Army of North America, Amherst deployed expeditions to occupy the French colonies of the Caribbean and suppress the American Revolution.
Community content is available under
CC-BY-SA
unless otherwise noted.