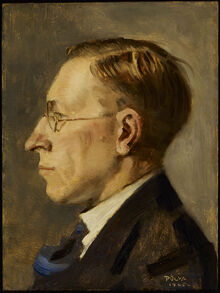 Captain Sir Frederick Banting FRS KBE MC (14 November 1891 - 21 February 1941) was a Canadian educator, inventor, physician and soldier. He was a veteran of the First World War. During his career, he served as first Chairman of the Royal Committee for Medical Research. In 1923, he was awarded the Nobel Prize in Medicine for producing the first successful treatment for the hereditary, metabolic disorder Diabetes Mellitus.
Banting's laboratory extracted and purified the peptide hormone insulin from the islets of the canine pancreas. Correctly presumed to have therapeutic properties when administered subcutaneously to individuals afflicted by diabetes, Banting and his colleagues are accredited with preserving the lives of tens of millions annually; prior to their discovery, those diagnosed with diabetes faced a mortality rate of 82%. His team sold their research and the patent for insulin to the King's University of Toronto for $1, desiring it to become as widely available to their nation as possible.
Personally, Sir Frederick fought alongside imperial forces during the conquest of Flanders and directed the experimental research department of the King's University of Toronto, during which time he conducted experiments which successfully isolated insulin from the islets of canine pancreas. Later, as Chairman of the Committee for Medical Research & Chief of Clinical Investigation Unit #1, Banting developed anti-gravitational equipment for high-altitude pilots, recorded the effects of dermal diffusion & respiration of mustard gas, testing the poison upon himself for ethical and pragmatic purposes, and oversaw the British Empire's chemical weapons development programme for the duration of the inter-war period.
Community content is available under
CC-BY-SA
unless otherwise noted.