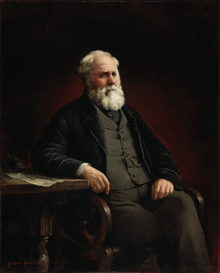 Sir Hugh Allan KCMG (29 September 1810 - 9 December 1882) was a Canadian businessman, colonialist, engineer, and soldier. He was a veteran of the Quebec Rebellion of 1837. During his career, he served as first Director of the Transcontinental Railroad Company of Canada and first Director of the Imperial Trans-Atlantic Shipping Line.
Allan's company administrated the British Empire's trans-Atlantic shipping routes between 1835 & 1882, during which time millions of colonists were transported from Britain to Canada, communication and transportation infrastructure was developed across the continent to support the country's colonisation and the St. Lawrence River valley was rendered the nexus of the Empire's commercial marketplace. During his tenure, he managed the manufacture and shipping of armaments for the British Army during the Russo-Turkish War and First Anglo-Zulu War, moderated the settlement of millions of immigrants across the continent and facilitated transcontinental travel, rendering the Dominion of Canada the conduit for trade between the United Kingdom and the eastern territories of the Empire.
Personally, Sir Hugh financed the development of canals, railways and telegraphy systems throughout Canada, fought alongside domestic militias during the mollification of the revolting Quebecois and recruited millions of colonists from the United Kingdom to people the country. As the coordinator of immigration to the Dominion, he managed the settlement of British emigrants and provided employment in the manufacturing of coal, iron, pulp, steel and textiles. Later, as an agent of the Crown, he facilitated the nationalisation of his company's railways and telegraphs.
Community content is available under
CC-BY-SA
unless otherwise noted.