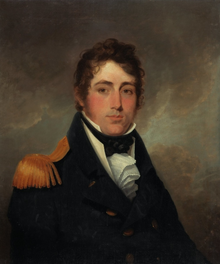 First Admiral of the Fleet Sir Provo Wallis GCB (12 April 1791 - 13 February 1892) was a Canadian naval officer and soldier. He was a veteran of the Fourth, Fifth & Sixth European Coalition Wars, the First Anglo-U.S. War and the First Franco-Mestizo War. During his career, he served as the forty-second First Admiral of the Royal Navy of the United Kingdom of Great Britain.
Provo's administration governed Her Majesty's Ships between 1875 and 1892, during which time the 'Two-Power Standard' was developed and the Fleet of the Royal Navy experienced an unprecedented expansion; dozens of battleships and cruisers were constructed and the fleet maintained, at all times, strength equal to that of the combined strength of the two greatest naval powers inferior to that of the British Empire. During his tenure, he led the effort to suppress the trans-Atlantic slave trade in the South Atlantic Ocean.
Provo's navies captured Jewish, Portuguese and Spanish vessels transporting chattel slaves between the Caribbean, West Africa and South America, expelled the Imperial French Marine from the Caribbean, occupied the French Colonies of Guadeloupe & Martinique and repelled the naval forces of the United States from the Gulf of St. Lawrence and North American Great Lakes; these operation uprooted the last rivals to the Royal Navy and secured the naval hegemony of the British Empire in the North Atlantic
Personally, Sir Provo fought alongside imperial naval forces during the expulsion of the U.S. Navy from the Gulf of St. Lawrence & North American Great Lakes, the occupation of Guadeloupe & Martinique and the extirpation of the Imperial French Marine in the Caribbean. Later, he commanded the North America & West Indies Squadron during the suppression of the trans-Atlantic slave trade; the largest human-trafficking operation in the world at the time, these operations terminated slave traffic across the South Atlantic Ocean.
Community content is available under
CC-BY-SA
unless otherwise noted.