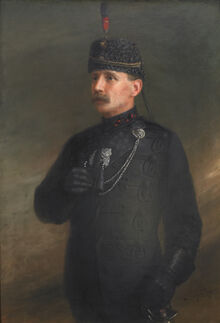 General Sir William Otter KCB (3 December 1843 - 6 May 1929)
 was a Canadian colonial administrator, military officer and soldier. He was a veteran of the Second Anglo-U.S. War, the Metis Rebellion of 1885, the Anglo-Cree War of 1885 and the Second Anglo-Boer War. During his career, he served as second Chief of the General Staff of the Army of the Dominion of Canada and the first Director of Internment Operations for the Ministry of Defence.
Otter's administration supervised the armed forces of the Dominion of Canada between 1908-1910, during which time the country's regional defensive militias were amalgamated and reorganised as the Army of the Dominion of Canada; it was the first professional, standing army raised domestically and served as the foundation of the Canadian Expeditionary Force during the First World War.
Otter's armies subdued the Army of the Transvaal on the banks of the Modder river, capturing one tenth of the entire army's forces and it's commanding officer, General Piet Cronje, in a single engagement. The ensuing Treaty of Vereeniging, 1902, stipulated complete capitulation: every citizen of the Transvaal was compelled to asseverate fealty to the Crown and their territory was annexed.
Personally, Sir William fought alongside imperial forces during the attempted occupations of the St. Lawrence river valley by U.S. filibusterers, the pillaging of Battleford by the Cree and the conquest of the Transvaal. He authored The Infantry Guide, a dissertation on martial conduct and instruction for infantrymen and their officers which specialised in the defence of vast territories against opponents with numerically superior forces; drawing from his experiences between 1866-1870, Otter anticipated war with the United States of America and prepared his soldiers for such a conflict. Later, as an agent for the Ministry of National Defence, he supervised the mass detainment and deportation of tens of thousands of foreign nationals from the Dominion of Canada during the First World War.
Community content is available under
CC-BY-SA
unless otherwise noted.