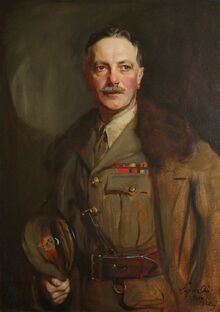 Major-General Sir William Heneker KCB (22 August 1867 - 24 May 1939) was a Canadian martial administrator, military officer and soldier. He was a veteran of the Anglo-Igbo War and the First World War. During his career, he served as Commander-In-Chief of the British Army of the Rhine and first Occupational Governor of the Rhineland Territory.
Heneker's administration governed the German banks of the Rhine River between 1918-1920, during which time the disarmament of the German Army took place, the conditions of the German Reich's surrender were deliberated and the Treaty of Versailles, 1919 was authored and enshrined by the nations of Europe.
Heneker's armies conquered the Kingdom of Edo, in the process annexing the Niger River valley to the Protectorate of Nigeria. In subsequence, he conducted campaigns against the Anetuno, Aro, Edo, Esan and Ibeku tribes in an effort to pacify regional hostility and secure the Protectorate's supremacy in the country.
Personally, Sir William authored Bush Warfare, a martial instruction manual for troops opposing irregular militants and guerrilla fighters which became a mainstay of military education in the United Kingdom & Dominion of Canada. He oversaw the displacement of the Igbo tribes from the Niger River Delta; this campaign mollified the belligerence of the natives toward British administrators, civilians and troops in the Nigeria Protectorate and halted the largest slave trafficking operation in West Africa. He led Column No. 4 of the Benin Expeditionary Force victoriously during the razing of the villages of Aro-Okigbo, Edo, Ehor, Idumere and Udo. Later, as Commander of the 54th Infantry Brigade of the British Expeditionary Force, he helped expel the German Army from Gaul and oversaw the post-war occupation of the Rhine River valley.
Community content is available under
CC-BY-SA
unless otherwise noted.